Happy Friday the 13th! What a perfect day to share a Halloween look with you all for this week's Beauty Mix with Jasmine, Ashleigh and Lily.  If you missed last week's look you can check that out here: Vampy Lip.
For this week's look, I used the same eye look from the Vampy Lip look and worked from there! I created this Half Skull Halloween look a few years ago for Halloween and wanted to recreate it this year to share with you all. There are so many different fun and crazy Halloween looks to create, but a skull is definitely one of my favorites! I can't wait to show you next week's look too, so be sure to subscribe via Bloglovin' or in the sidebar for updates!
The Halloween makeup I used for this was supposed to be pretty creamy and I've used it in the past, but it must get old after some time. I did some research and found you could add water and help soften it up, but it didn't do much good. It just made it a little more difficult to work with. Of course, I made a video on my YouTube channel for you guys too, so I will have that below that you can follow along. It's a pretty quick one.
My original inspiration for this look was from Chrisspy on YouTube. She did a half skull and I tried to recreate it. You can check out her look here. Hers is definitely way better, but she has been doing this for quite some time. Her other Halloween looks are amazing as well.  *Disclaimer- some links are affiliate links.
PRODUCTS USED
Eyes (See video + makeup look in last week's Beauty Mix):
Mac Pro Long Wear Paint Pot in Soft Ochre
Morphe 35O palette
Dose of Colors DesixKaty "The Girls" Eyeshadow Palette – Harpoon and Turbosan (currently sold out, but will be back this month)
Maybelline Master Cream Kohl Eyeliner
L'Oreal Voluminous Lash Paradise – Black
Ardell Natural Lashes
Face:
White Cream Paint – Mehron – Find it at Halloween Express or Amazon
Black Cream Paint – Mehron – Find it at Halloween Express or Amazon
Black Eyeshadow from the Jaclyn Hill x Morphe Palette
Maybelline Master Cream Kohl Eyeliner
I would also recommend the setting powder from Mehron here.
---
Don't forget to check out the other girls Halloween looks below!
|  Beauty with Lily  |
|  Jasmine Maria -look will be up later today |
| Ashleigh Rose  – look will be up later today|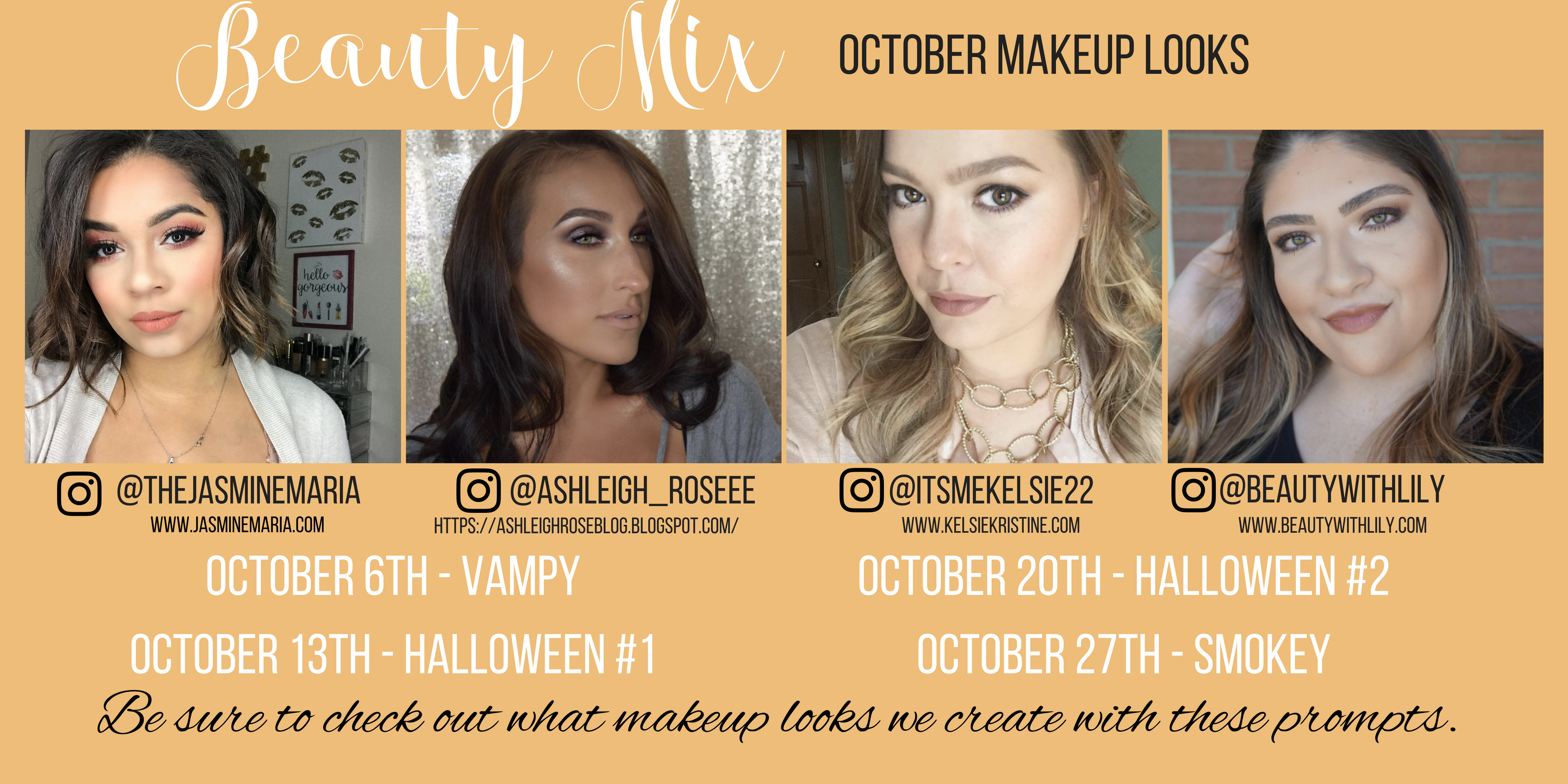 Thanks for reading! I can't wait to show you next weeks look! If you recreate this look, let me know or tag me on social media! What are you going to be this year for Halloween? Tell me in the comments below!
FOLLOW ME ON SOCIAL:
Snapchat: @itsmekelsie22  Facebook: Kelsie Kristine
Instagram: @itsmkelsie22  Twitter: @itsmekelsie22