Happy Wednesday Loves!
Are you planning out your 4th of July outfit yet? Since the 4th falls in the middle of the week, a lot of celebrations are happening the day of, as well as on the weekends, so multiple outfits may be required! If you're like me and LOVE the casual vibes, these outfits are up your alley! Plan ahead and order your outfits now so they ship in time!
I also have a whole SHOP page on the blog dedicated to 4th of July picks, so check that out for more inspo!
*Disclaimer: This post contains affiliate links. Some clicks/purchases may result in a small commission to keeping my blog running at no additional cost to you. I do not benefit from the coupon codes given, these are solely to benefit my followers! Thank you for supporting my blog.
*Photography by Amy Lynn Photography Studio*
Fourth of July Casual Outfits
ILY Couture / Shop Hello Fashion
These first few tops are from Shop Hello Fashion (formerly known as ILY Couture). They just went through a re-brand, so definitely check out their site! Plus, get 15% off, plus FREE shipping when you use the code: FAMILY15 at checkout! I have always loved their tops and have a few other casual tees from their shop as well.


Stars & Stripes Tee | White Shorts | Necklace (Get 10% off with code KELSIE)| Watch | Clutch (Similar) | Ring
The stars and stripes tee is a boyfriend fit and I didn't see that when I ordered, so I ordered too large.
Order your size or one down if you want a tighter fit.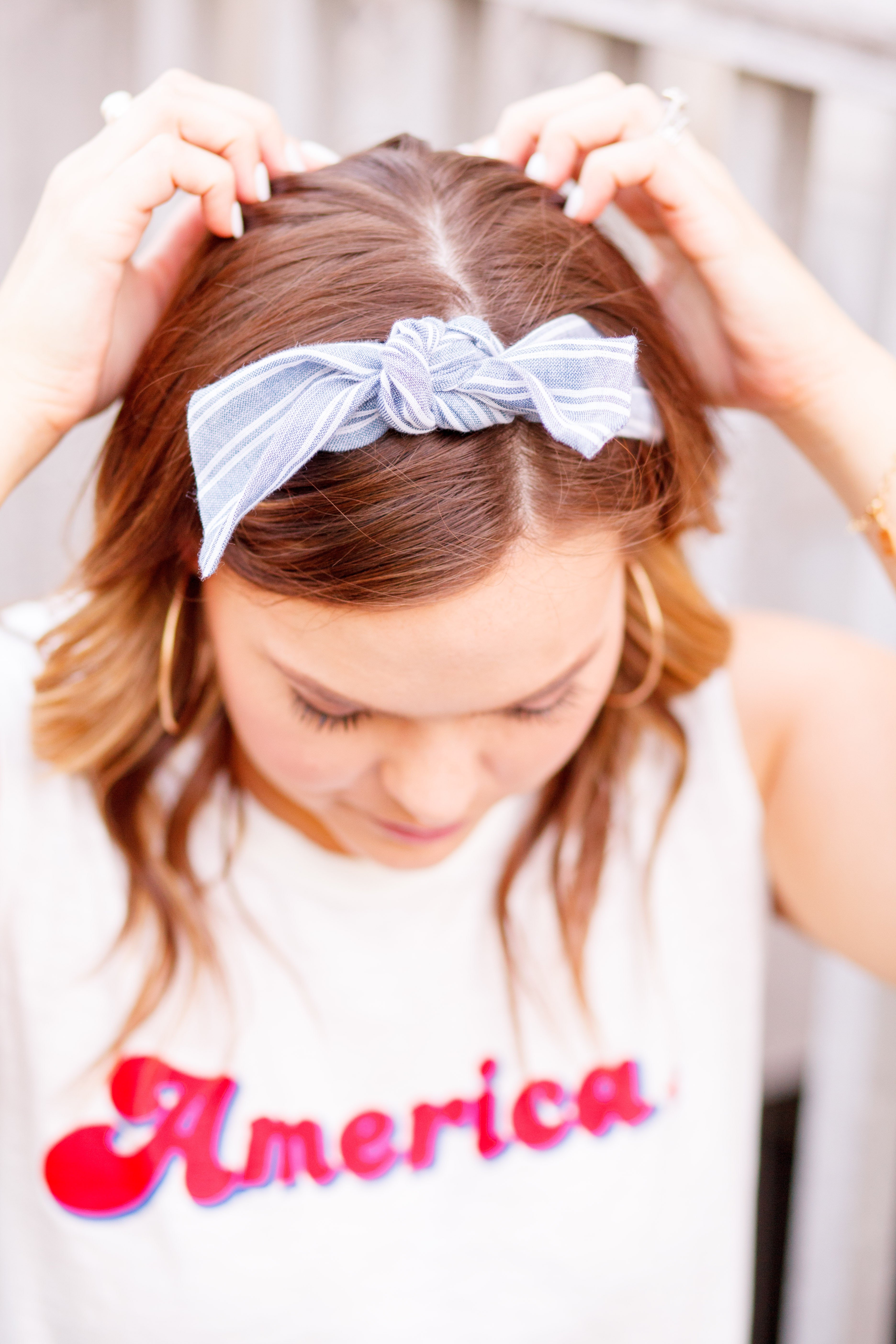 American Muscle Tank | Necklace (Get 10% off with code KELSIE) | Jeans | Espadrille Wedges | Earrings | Ring
The skinny head scarf I bought at Target for my honeymoon last year. I have seen them in stores recently, but they're not online. Here is a similar bandana from Target that can be used the same way or one that can just be worn as a head wrap without the tie detail here.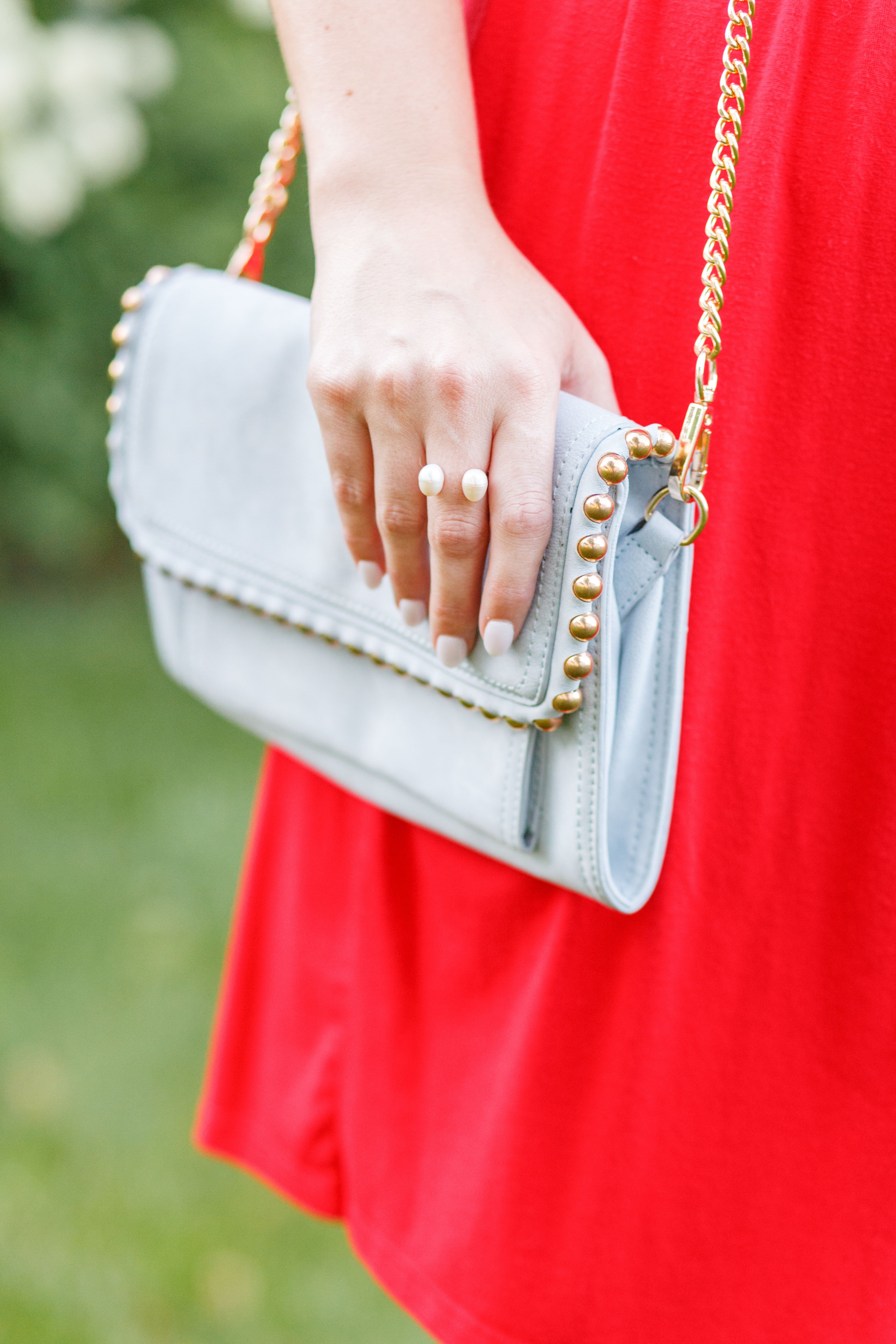 American Muscle Tank | Red Dress – old (Similar) |Espadrille Wedges | Light Blue Bag
Order a size or two down!! I ordered a size up, and it was wayyy too big for me, so I will be returning this guy! If It was more my size it would be so perfect! Since it was too large, I decided to tie it over a red tank dress and I thought it was perfect! Still casual, but a little more dressed up!
[bctt tweet="Tons of 4th of July Casual Outfit Inspo!!!" username="itsmekelsie22″]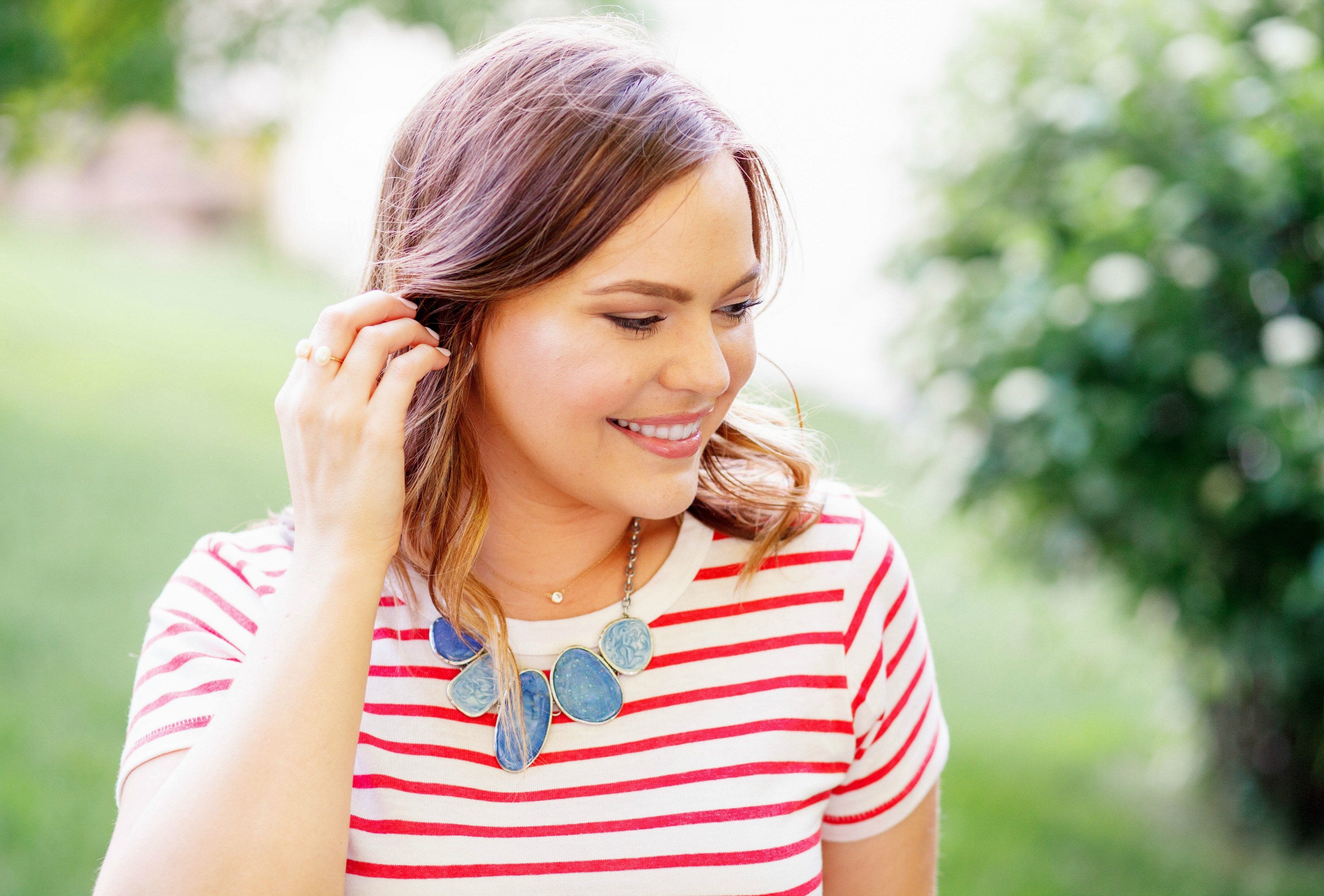 Red & White Striped Tee | Jeans
I ordered a size up in this one and it is still a bit snug. I would probably order one more size up for a looser fit.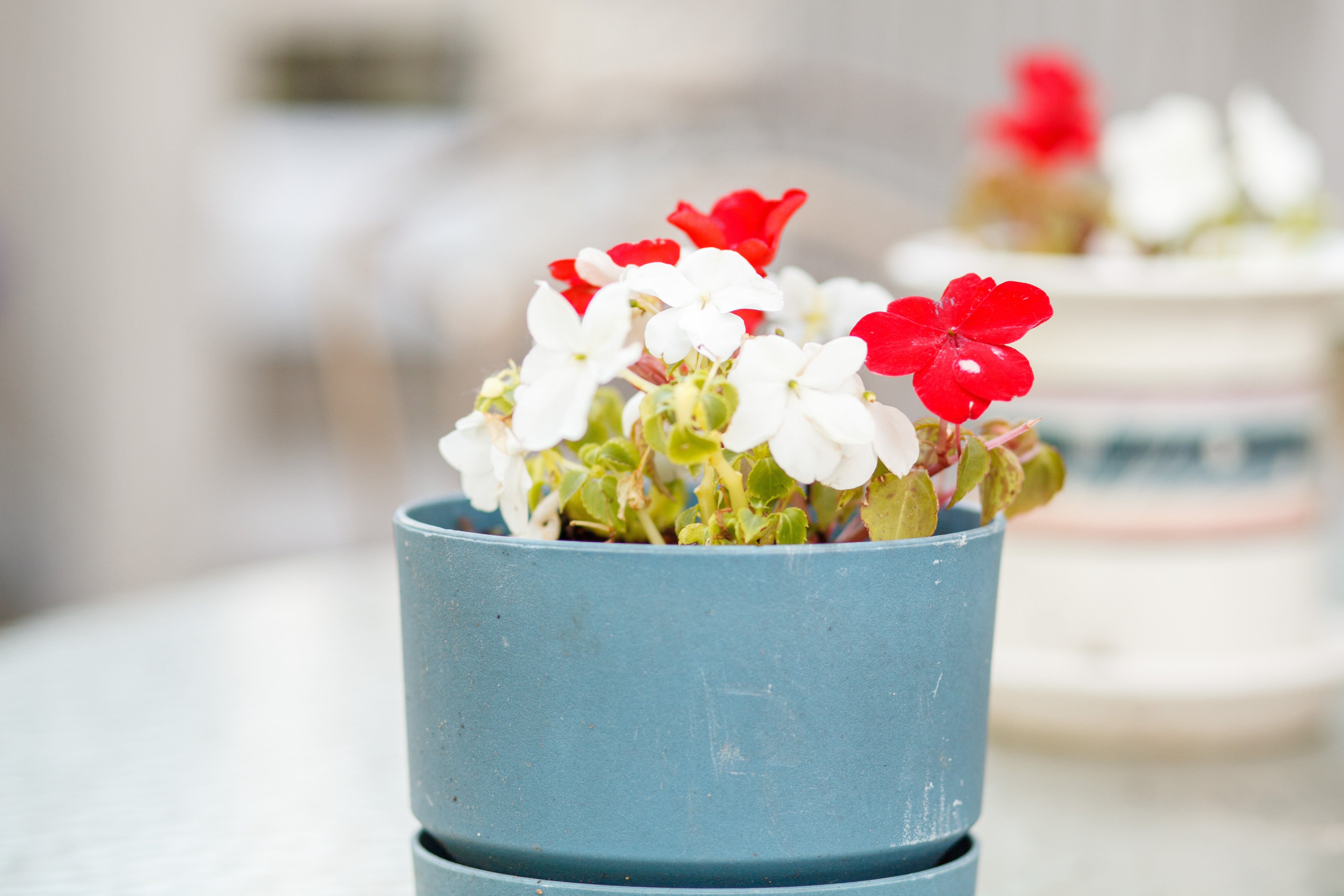 Hometown Hoodies
This is a new company to me, but local and I love to support local shops! I have seen a ton of tops out there that have the outlines of states on them, but I never knew where to look, so I'm so glad I know about this company now! They don't have options for all of the states, but they have quite a few! They will also add the "home" to where you would like! I had mine placed where Madison is! 🙂 Also, I have another coupon code for you! Use the code "itsmekelsie22" for 10% off your order!
Home Tee | Jeans | American Flag (minis) | Sandals
I love this top! It's their tri-blend tee in red that will be coming out in Fall just in time for the Badger games. You can still request the shirt in red online – just email sales@hometownhoodies.com! Shipping was super quick for my tee too!! As I said above, I do like tees a little loose fitting. I am usually a medium and this top is a Large, however it's still a bit snug for me, so I would go one or two sizes up depending on how you like the fit!
The sandals are from Vionic and OMG they are the most comfortable sandal ever! Vionic is all about good shoes for your feet and making sure you have the right support. I constantly wear shoes without any support and I know it's not good for my feet!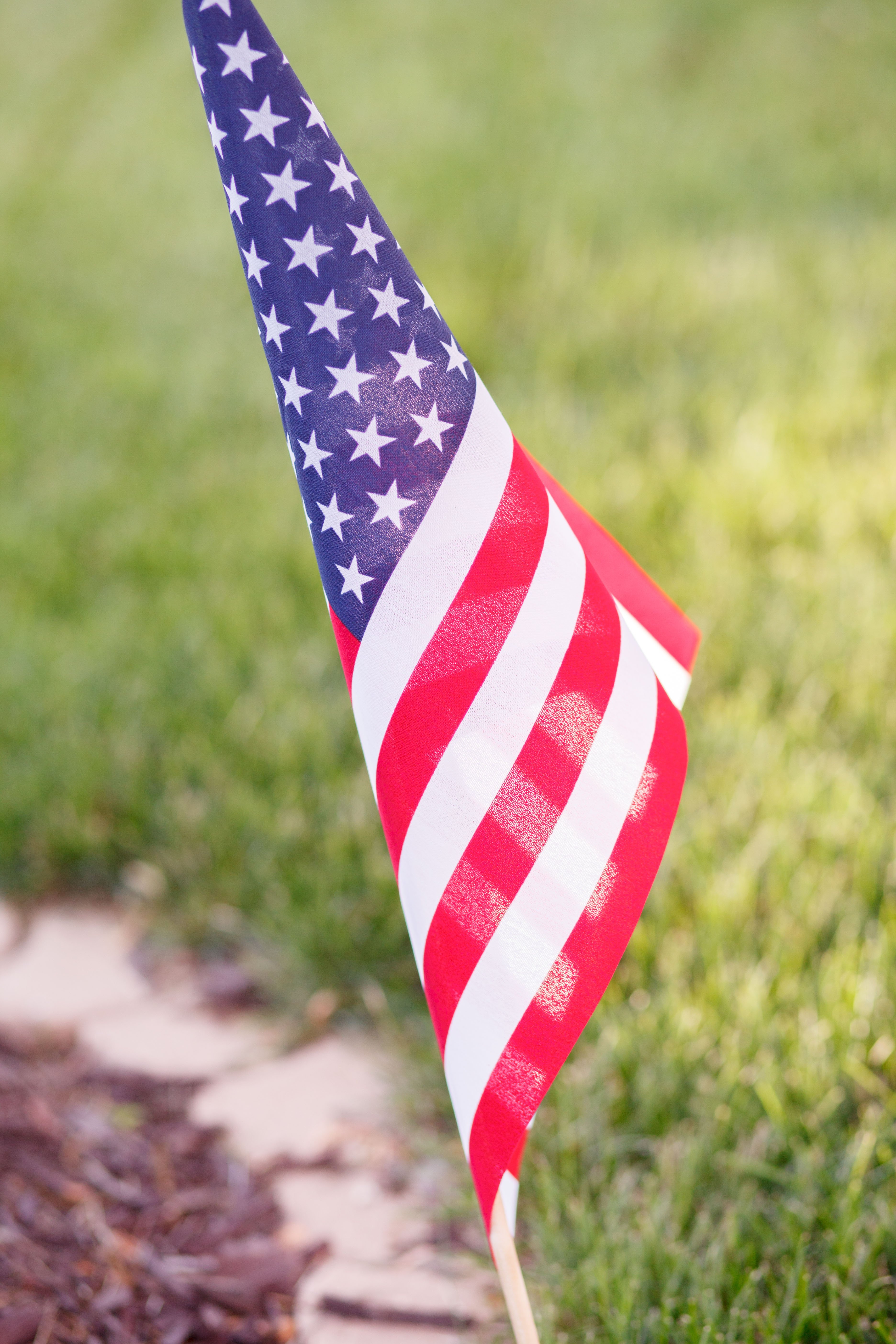 What are your 4th of July plans? Are you more of a casual dresser for the festivities, or do you like to dress it up?! Let me know in the comments below! Have a fun and safe 4th of July!
SHOP THIS POST

Don't forget to check out my SHOP page on the blog dedicated to 4th of July picks for more inspo!
Thanks for reading! Until next time babes,
15% Off Site Wide at Shop Hello Fashion with code FAMILY15. Ends 7/31/18.