Happy Wednesday!! If you follow me on Instagram and watch my stories, you probably know that I was supposed to be in Nashville right now, and you probably heard the whole ordeal as to why we're not currently there! If not, long story short, we had to cancel our trip due to my husband's work needing to meet deadlines! We're hoping to go in the next few months, but not sure if we can swing it with the holidays coming up! I'm super bummed and was looking forward to the trip, but unfortunately, there is nothing we could've done to make it work! So, since I'm not in Nashville right now, I decided to take a day trip to Chicago to meet up with my friend Brianna (Brianna Fox)! Chicago is going to be the closest to Nashville as I can get for this month, so I'm super excited! Follow me along on Instagram stories to check out our adventures! I may even Vlog the trip, who knows?!
So, since today was supposed to be a "Travel outfit" post, I decided to share that at a later day and instead, share my favorite OTK (Over the Knee) boots with you all! There are so many cute options out there, some that are super affordable, and some that are a little bit of a splurge for me, but totally worth it! I've rounded up my favorites for fall below, along with a couple of cute fall outfits!
Black over the knee boots can be worn so many different ways! I love it with a cuter top or a comfy and casual top! Another great way to wear them in fall is with a cute skirt and sweater or a sweater dress! They are really a must-have for the fall and winter months!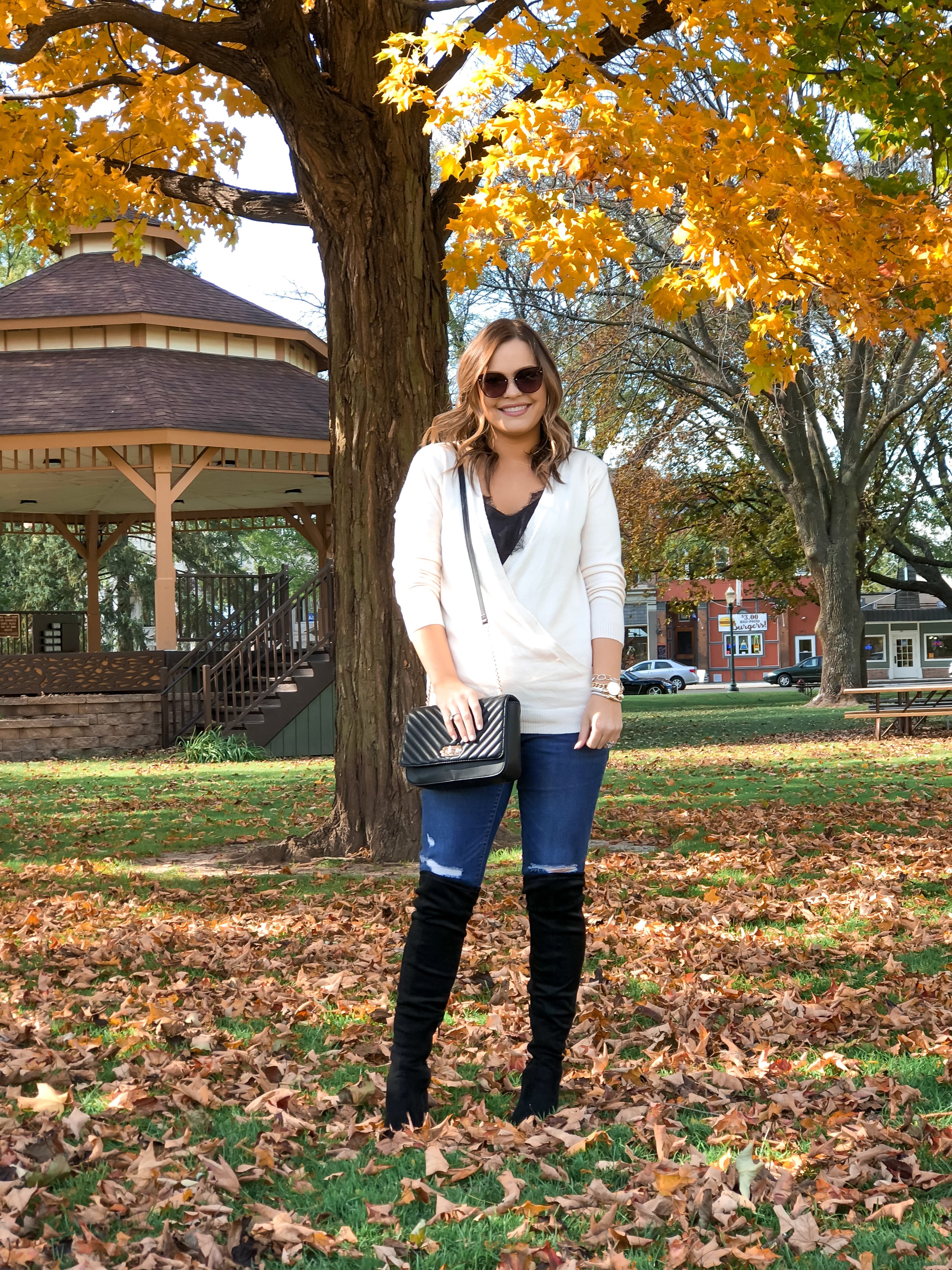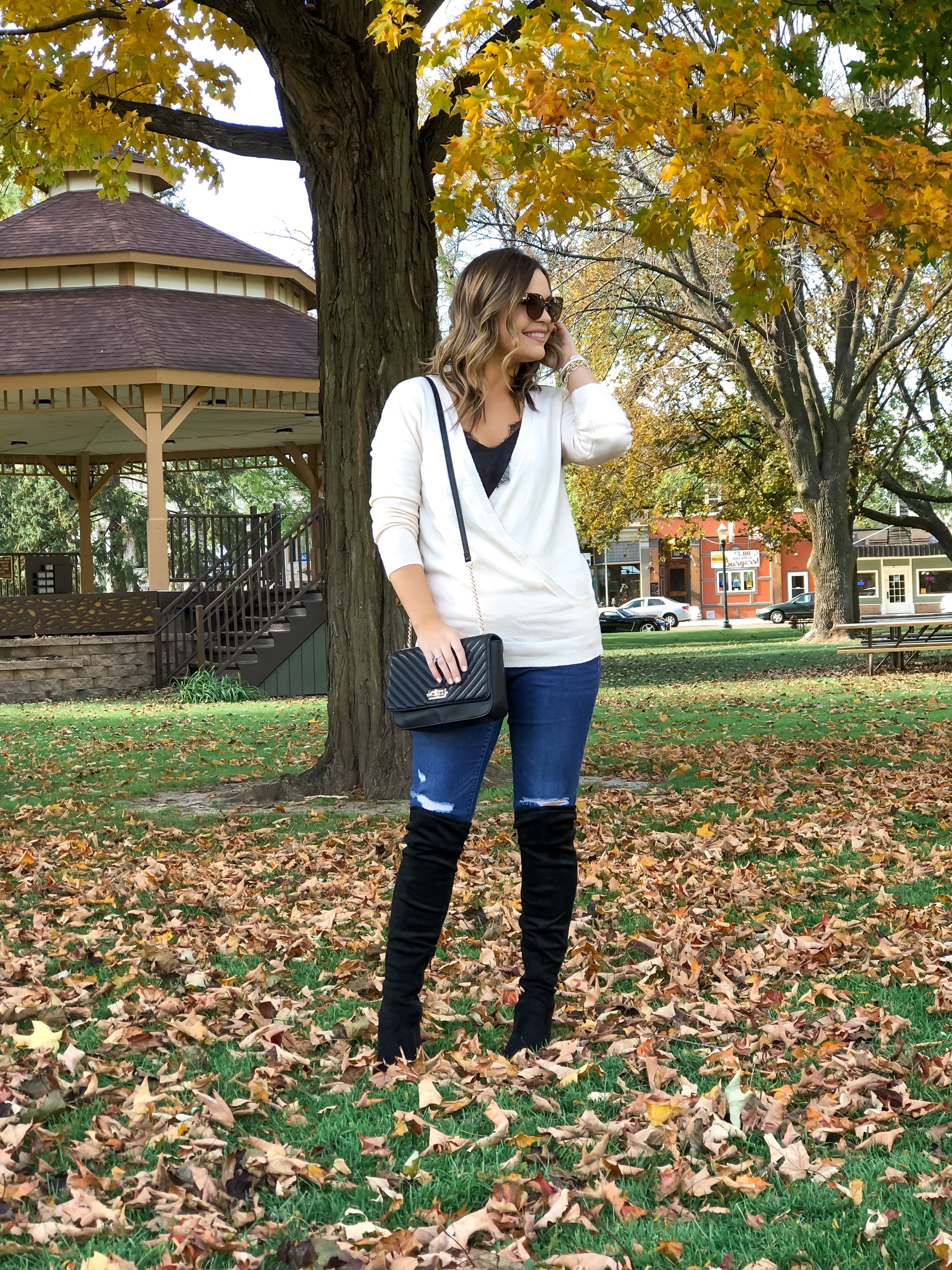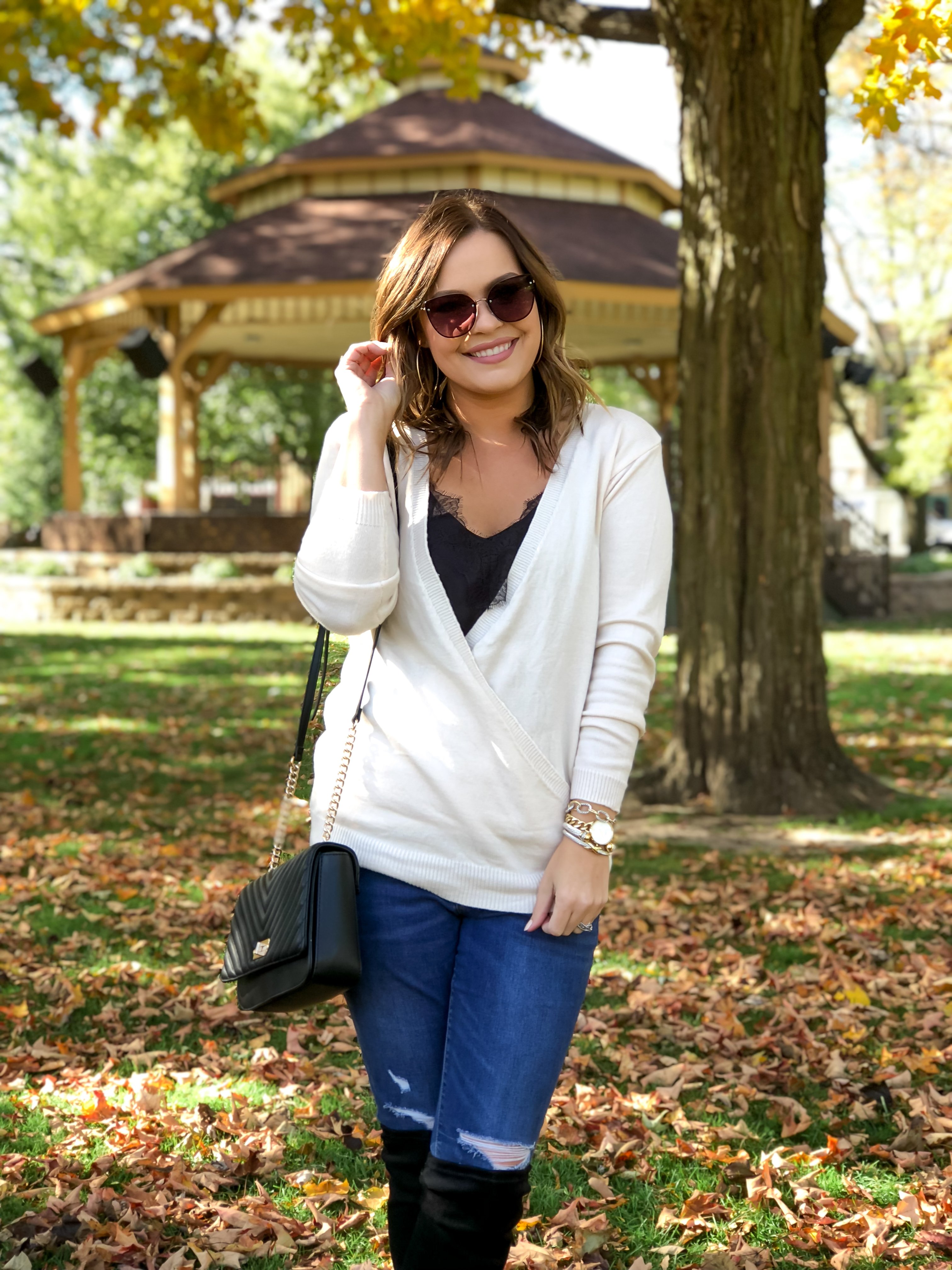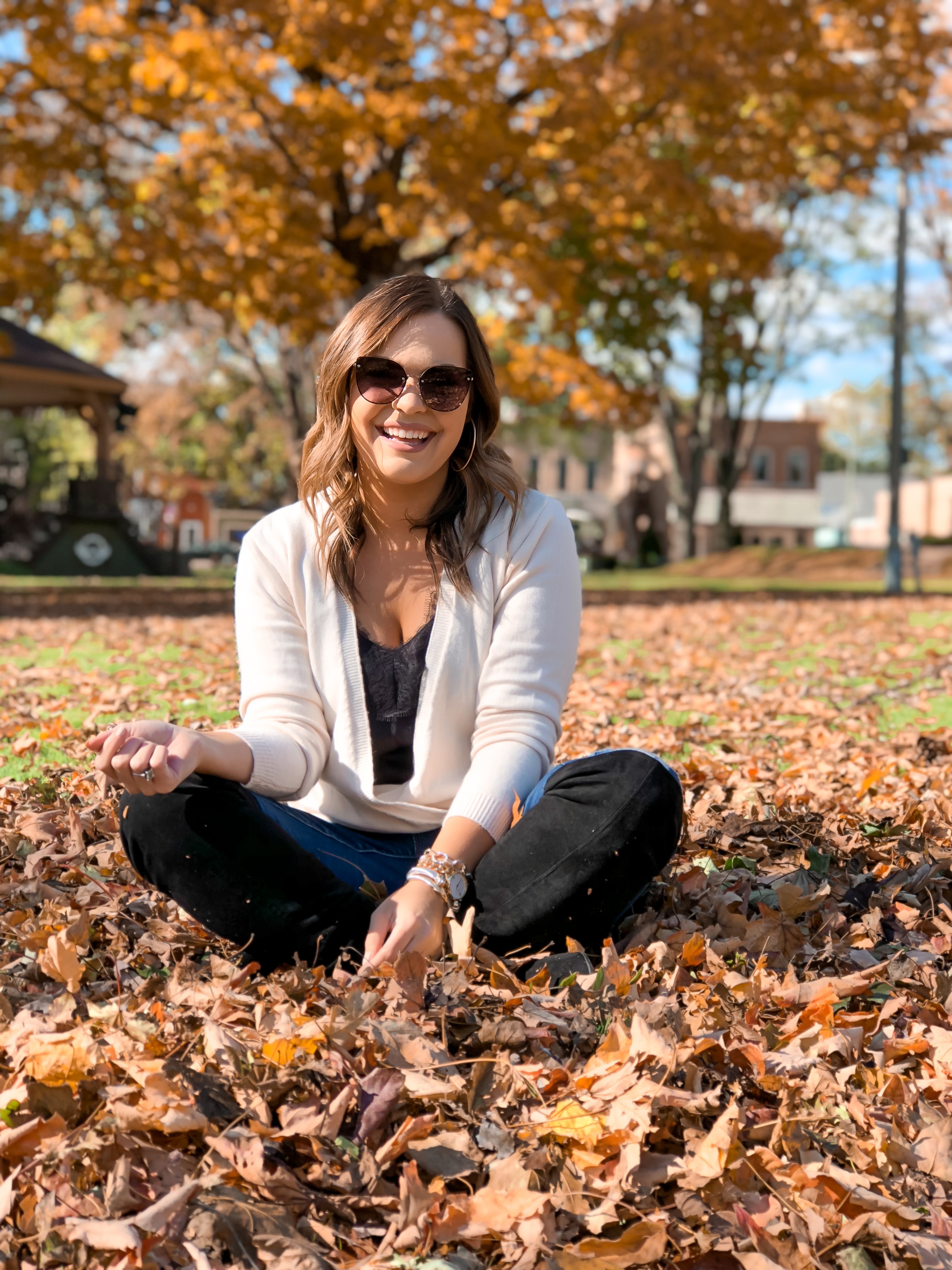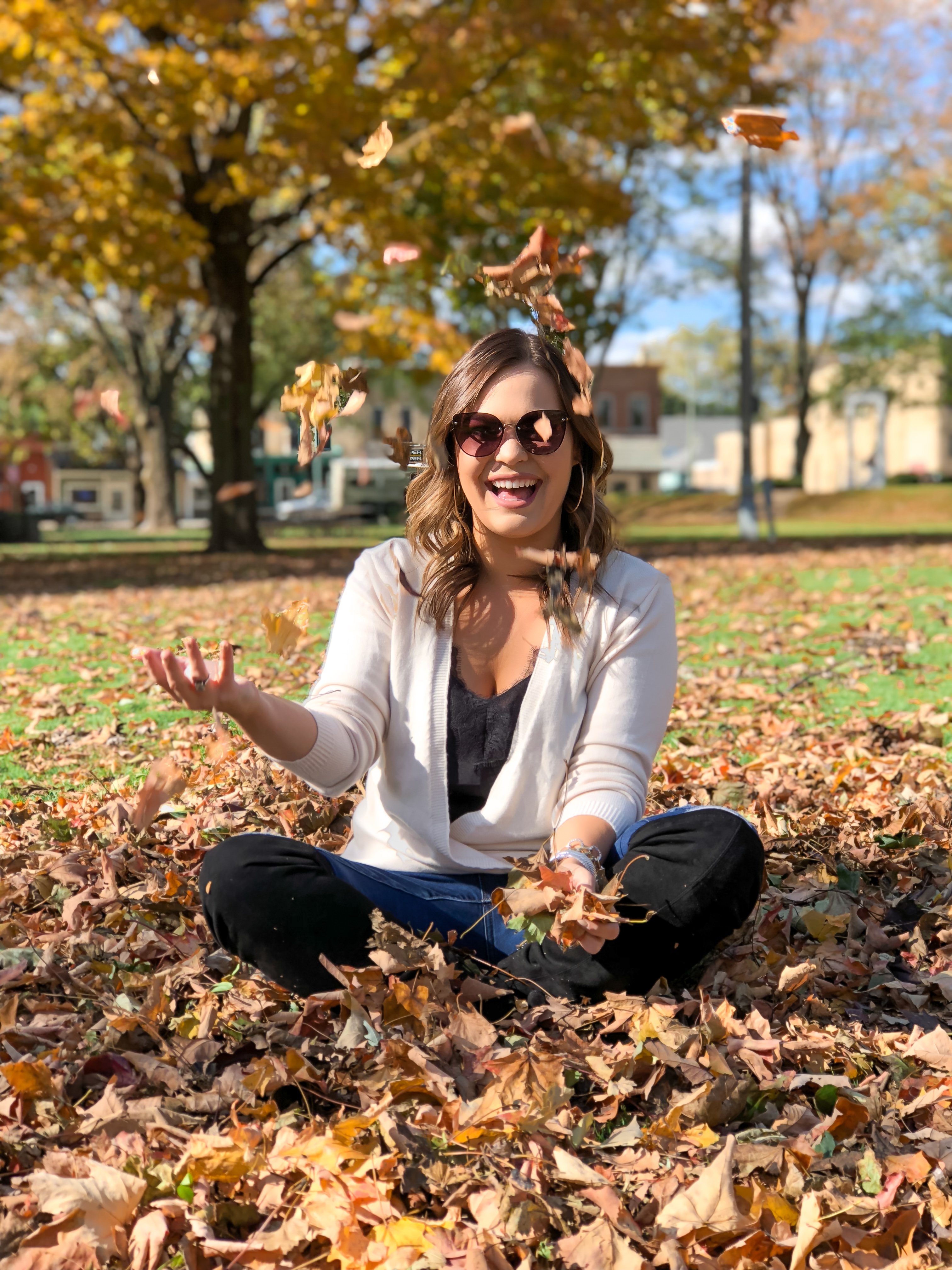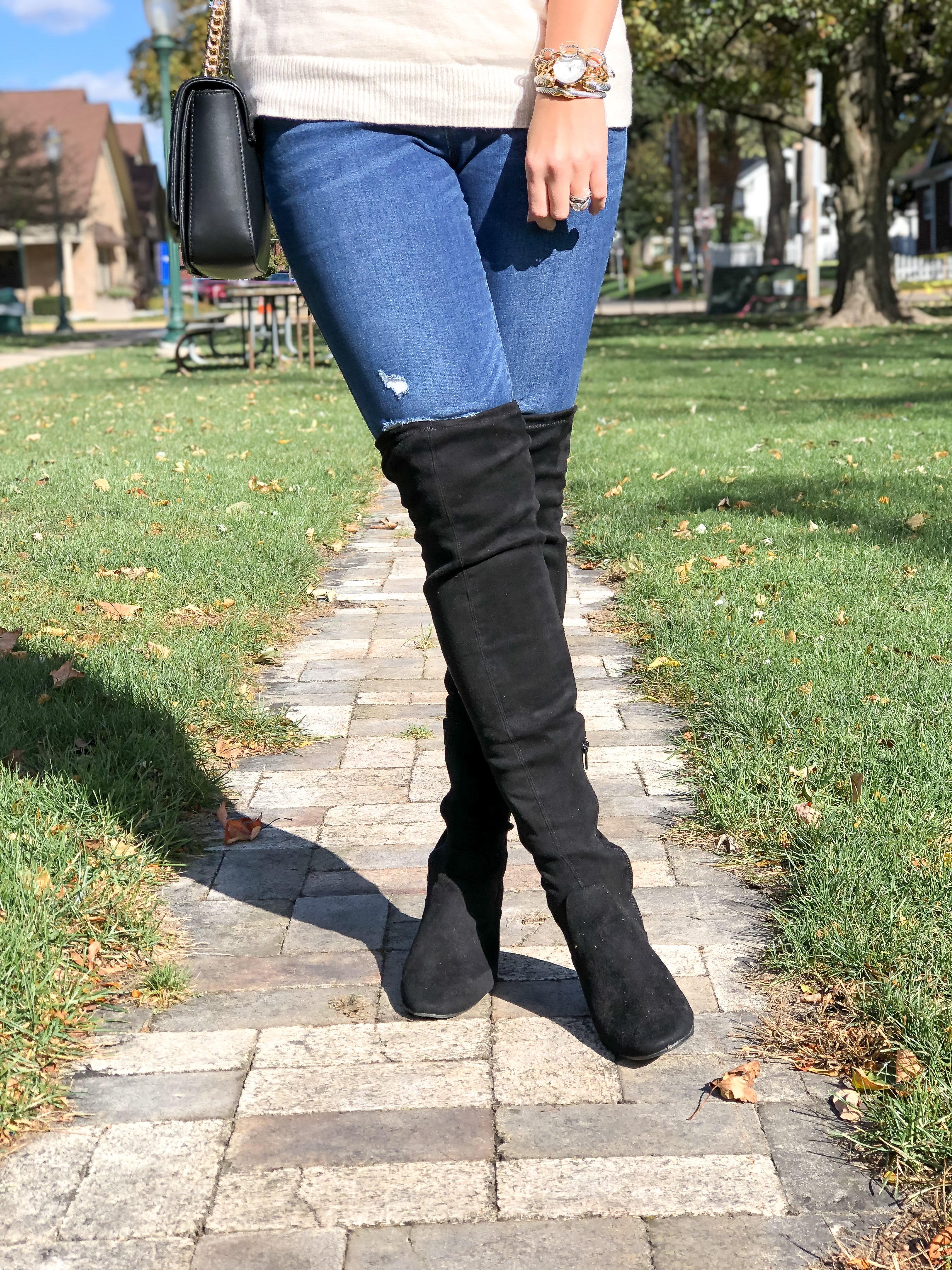 Cross Front Sweater | Lace Cami | Jeans | OTK Boots (or Similar)
Purse | Hoop Earrings | Bracelets
Sunglasses | Watch – Use code "kelsie15" for $15 off your purchase at MVMT
This cross front top was featured in my Amazon Fashion Haul, and I am finally sharing a photo of it! It is the cutest and softest sweater, plus it's so affordable!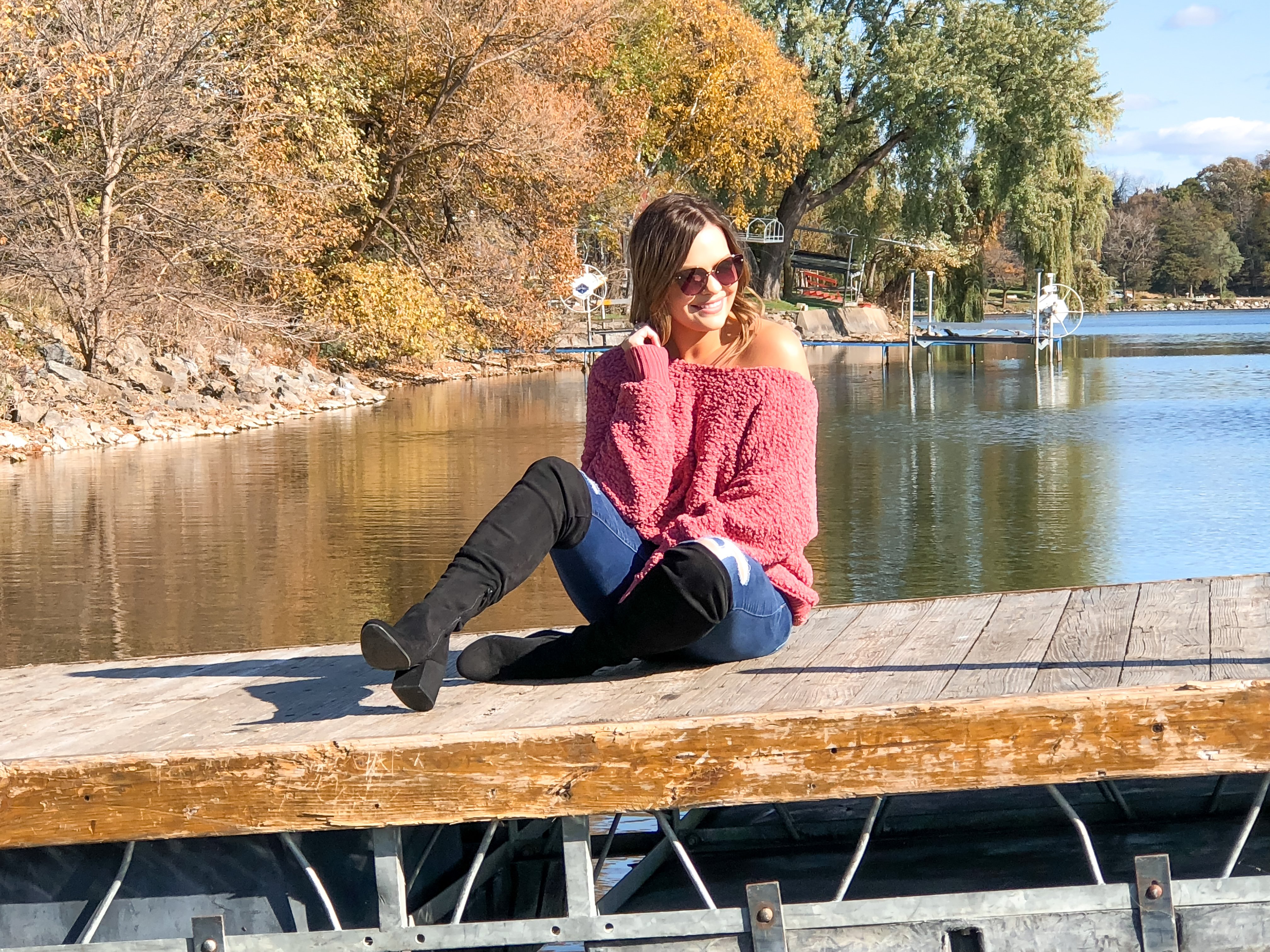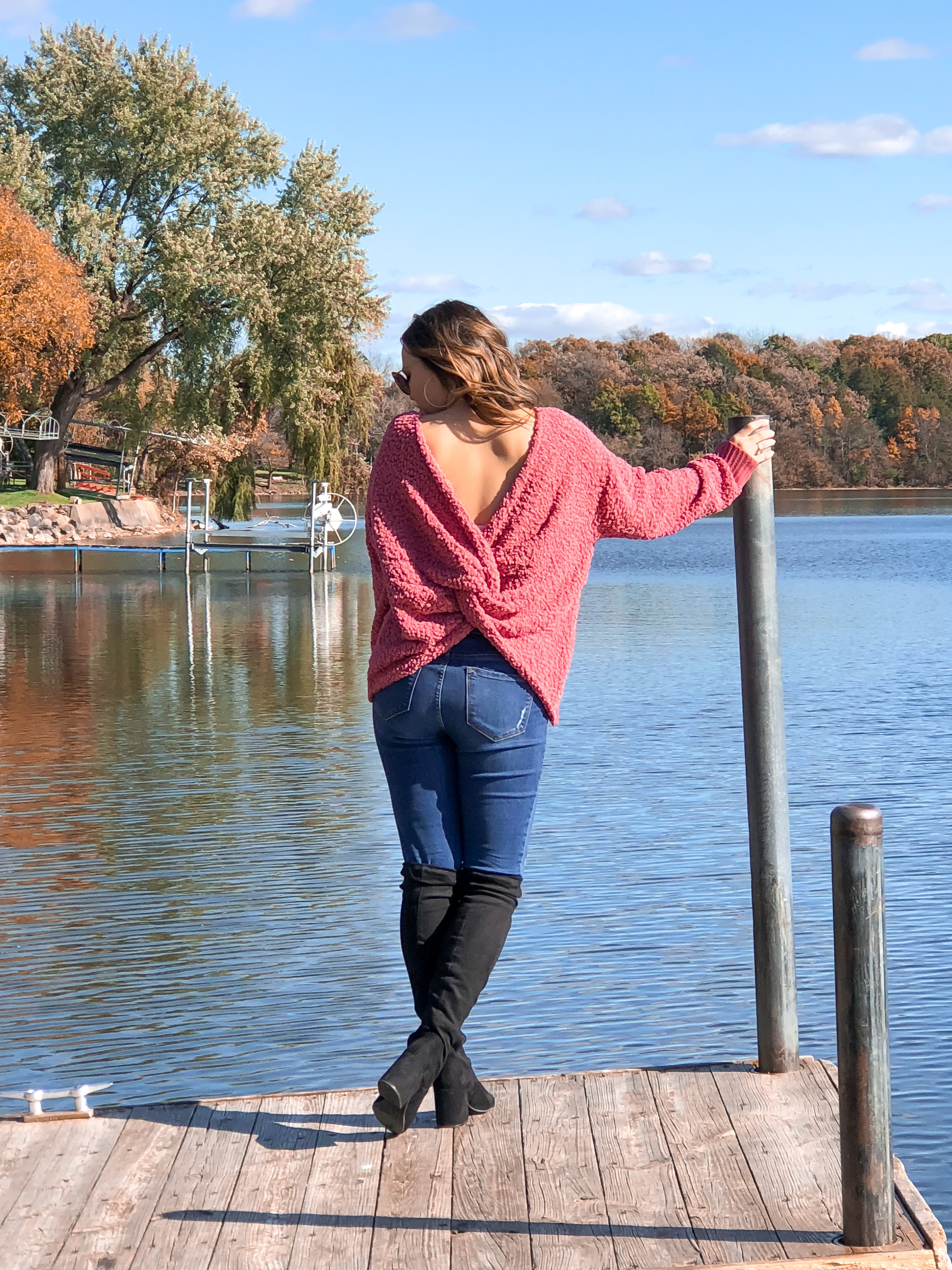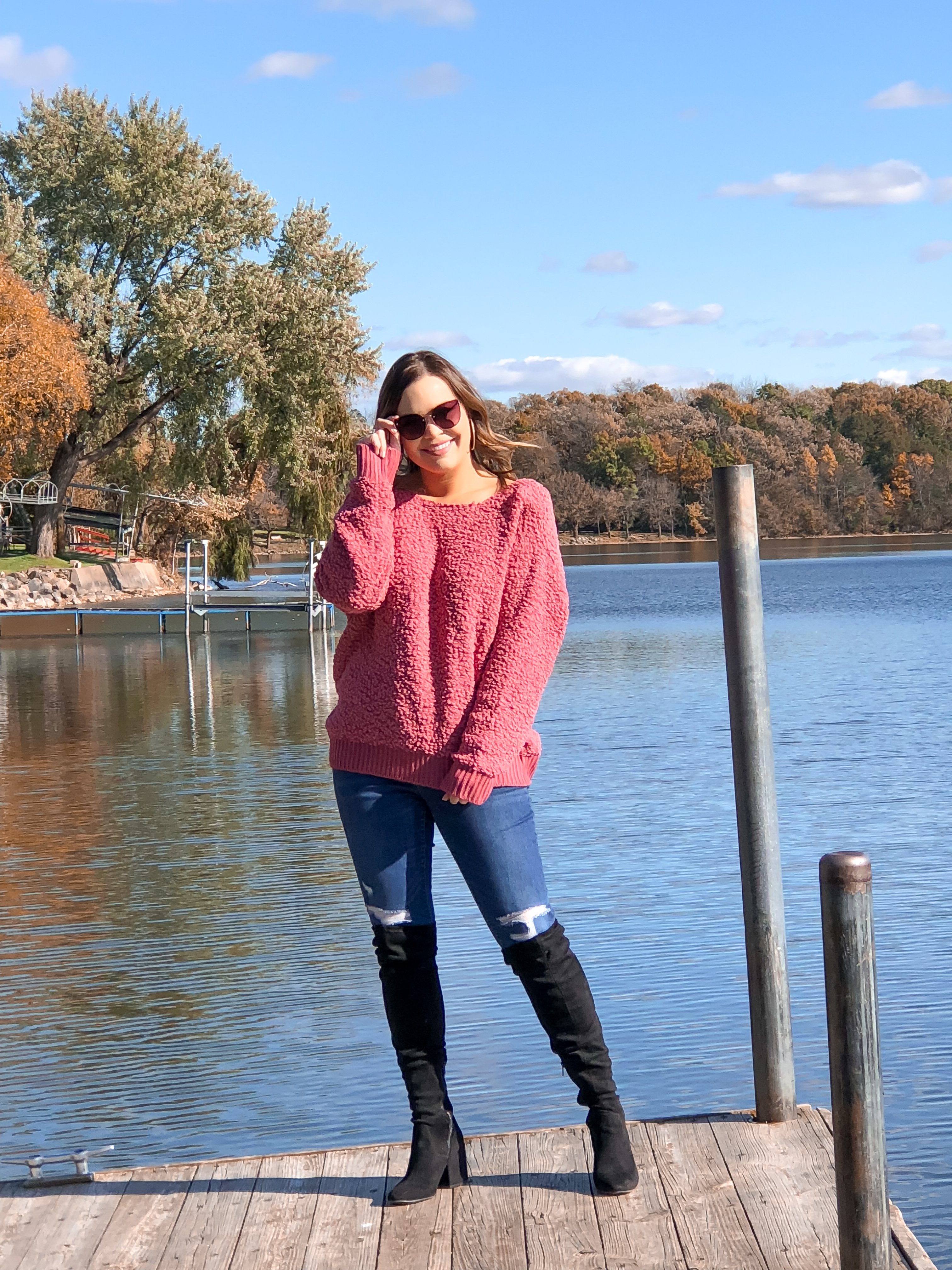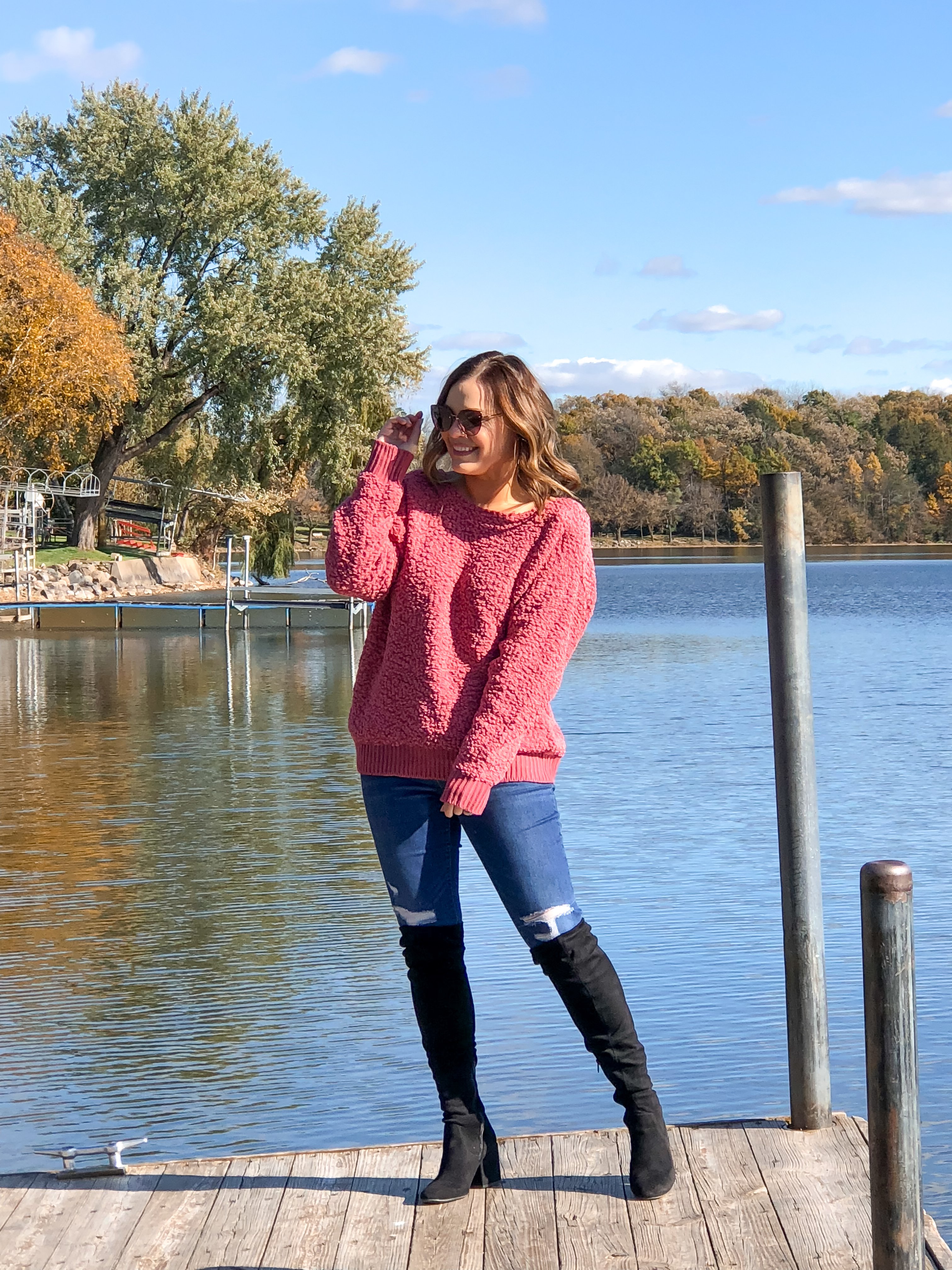 Fuzzy Cross Back Sweater | Jeans | OTK Boots (or Similar)
Sunglasses -Â Use code "kelsie15" for $15 off your purchase at MVMT
The cross back fuzzy sweater is so cozy! I'm wearing a size L (normally I'm a M) and they only have size L left, so snag it before it's gone! It is from an online boutique called Saved By the Dress.

My Favorite OTK Boots for Fall
As far as color goes, black and dark brown are really going to be the most flattering color on anyone! The darker color causes your legs to look slimmer, plus if you add a heel, you look even taller! I prefer a smaller heel over anything super high, but also have some OTK boots without a heel! It's all based on preference and what you're looking for! Below are some great OTK boot options available right now!

What are your favorite OTK boots this fall?! Let me know in the comments below!
Thanks for reading!
---