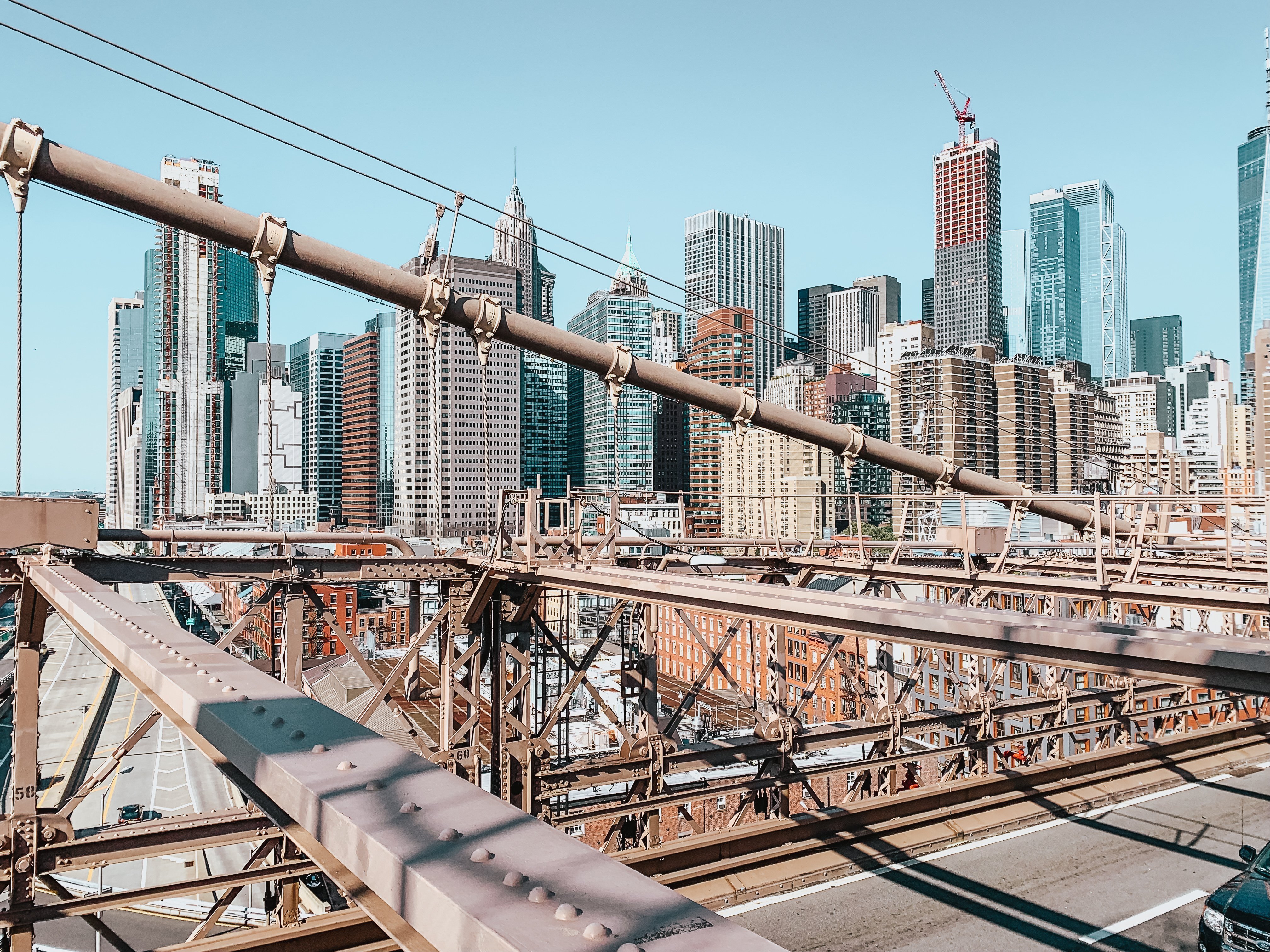 It feels like forever now since I've been to New York for Fashion Week, but as promised, I'm finally sharing a post with my tips for those of you interested in attending New York Fashion Week in the future. This post is more geared toward other bloggers who are looking at connecting with brands while in New York, but if you're not a blogger, I still have a few tips for you as well.
A lot of the messages and comments I received while in New York were along the lines of… "How lucky, you got invited to fashion week…" or "I hope I'm invited to Fashion Week in the future." But guess what? I have exciting news for you… ANYONE CAN ATTEND NYFW!!! Crazy, right?! It was something I had to wrap my head around before I decided to go. I almost went in February, but it didn't work out, so when I thought about it again for the fall, I decided to go all in! It worked out that Chloe also had the goal of going, so we both said, let's do it, and made it happen! I wanted to share the tips I have and the things I learned from my first trip to New York for Fashion Week and hopefully it's beneficial to you first-timers.
10 Tips for Your First NYFW
Book your flight first, then your hotel.
It's crazy to think that you have to book your flight before you even know what shows you are attending or what your plans are, but with Fashion Week, everything is more last minute, but flight comes first. If you don't book your flight far enough in advance, airfare will go up. I suggest booking at least 2 months in advance. Fashion Week typically runs from mid week to mid-week and from this trip, I've learned that the majority of events and parties happen in the first few nights, so try to plan to be in New York within the first half of Fashion Week. Hotels come next. This is something Chloe and I didn't realize. Hotels need to be booked well in advance and you have to reach out to so many of them before hearing back. Look for a group of girls to bunk up with and if you have to split a media rate hotel room, then so be it.
From what I've heard, these are some of the blogger friendly hotels in New York: Nomo Soho, The Arlo Hotel, The Smyth Hotel, The Roxy Hotel, The James, 11 Howard, Soho Grand, and 50 Bowery.
Sign up for GPS RADAR.
This was HUGE for getting into shows. If you're a blogger, you will want to sign up with your domain email to be accepted. You can reach out to shows on the app to get invited, plus you'll get a ton of invites to other shows just for being on the app.
Create a list of brands, PR Companies, and fashion shows that you want to connect with while in NY & Be prepared for "No's".
I used google sheets to keep track of all of my contacts and how many times I reached out. Start emailing brands 1-2 months before Fashion Week, and don't forget to follow up!! I found a lot of PR companies through LinkedIn and was able to connect on there for quite a few contacts. You're probably going to hear a lot more no's than yes's if you're pitching to a lot of companies. Don't let yourself get discouraged. Don't give up on reaching out, and always follow up!
Don't overbook yourself.
You probably think it's best to try to fill your schedule, especially for your first Fashion Week, but I'm telling you from experience, give yourself more time than you think you'll need. Remember that in NY, everything takes longer – give yourself enough time between meetings and shows so you aren't late. Schedule in bathroom breaks, outfit changes, and food breaks. Use your cab/Uber time to post on social -that worked so well! ALWAYS arrive early to any shows. Also, shows are not that important. I personally loved connecting with brands and going to any brand events over the shows.
Use the Buddy System.
Travel with other bloggers who will probably have similar schedules as you. New York is a big city and I was totally fine while on my own here and there, but it's definitely safer in a big city if you're with people you know. Be safe and be aware of your surroundings at all times.

Bring comfortable shoes + a bag to carry them in.
This was one thing someone on IG mentioned to me before going to NY. You walk so much, so the last thing you want to do is be dying in a pair of heels while walking. I brought a couple tote bags that worked super well, one reusable one (that ended up breaking) and one sturdy one. I kept a lot in my bags, so bring the sturdy ones so they're less likely to break.
Don't be afraid to step outside your comfort zone with your outfits.
This is one thing I didn't quite do for my first trip. I honestly packed way too many fall clothes and the weather ended up being hotter than expected. A few of my outfits were things I wouldn't normally wear. ?I added color, sparkles and leather too! I loved all of the outfits, but want to go even more all out next time. The thing I love about New York is that people DO NOT JUDGE you for what you wear! There are wacky outfits out there all the time and it's the norm for the city. See below for outfit photos – click on each photo for outfit details.
Know your transportation options.
This goes for anyone traveling to New York. It was recommended to get a week pass with the metro card and I wish I would've done it from the beginning. I spent so much money on cabs and ubers, even while still using the subway. The subway is one of the major forms of transportation in the city, and honestly, the fastest and cheapest way. It's not scary, just don't try to look touristy and you'll be just fine! I rode it myself a ton and it wall all good ! 😉 On another note, Ubers ended up being less than cabs at certain times, so be aware of the charges of the cabs at certain times and compare with Uber and Lyft.
Make sure to take time and see the sights and enjoy the food.
Yes you're in NYC for Fashion Week, but it's a big city and even if you've been there before, take the time to see some sights you haven't seen and eat somewhere you haven't eaten. Chloe and I found an amazing restaurant randomly one night that had the BEST Oysters!!! We actually came upon it after having to go back downtown to get my credit card from bar, but it was just meant to be! READ ON to see my favorite spots for taking photos while in NYC.
Have fun, make new friends, & enjoy yourself.
We met so many new people on this trip, brands, bloggers, locals, etc. and everyone was so kind. I know some people may not be as pleasant, but I try to feel out anyone before introducing myself. If it's someone I think is open to introductions, then I jump right in. Find the ones you genuinely enjoy! & don't forget to have fun and enjoy yourself.


BEST Spots to Take Photos + Photo Tips
There are soo many great spots to take photos in the city. Some we made it to, others were recommended and are on the list for next time.
Brooklyn Bridge – arrive earlyyyyyy in the morning and watch out for bikers- they will not move for you to get your shot and you WILL get yelled at. haha

Gapstow Bridge (Central Park) – We didn't make it to Central Park but definitely going next time!
DUMBO (Means Down Under Manhattan Bridge Overpass) – the coolest spot with the Manhattan Bridge in the background – also go EARLY!!!

Grand Central Station
The Vessel – it's a hidden gem at the Hudson Yards – if you have time, go up in it. That's on my list for next time!

Empire State Building
SoHo (Means South of Houston Street) area – so many great photo spots
Top of the Rock – best view of the Empire State Building and skyline from their observation deck.
Times Square – it was super busy when I went, but super cool to see at least once! P.S. – I didn't bring back up shoes for this one and my feet (and ankles as you can see) were dying!!!


Bethesda Fountain (Central Park) – Reminds me of Gossip Girl!
Bow Bridge (Central Park)
With the Iconic NYC Pizza – this was taken just off Times Square at Joe's Pizza.

Brooklyn Heights Promenade
Flatiron Building

Floral Wall at Dominique Ansel's Bakery – you HAVE to try the famous CROnut (Croissant-Donut) OMG so good!!!

The High Line – I walked this on the way to a meeting and it was soo cool!
Washington Square Park
Subway – you have to get at least one subway shot 😉

St. Patrick's Cathedral – this is the most beautiful cathedral! I walked past it several times!

Our trip to New York was the best and I can't wait for next time! I learned so many things and will be extra prepared next time! I hope you found this post useful for your NYFW trip!
Thank you so much for reading.

You may also like:// My Favorite Travel Essentials // What's in My Travel Makeup Bag
---