Remember back in my post about how to style oversized graphic tees? I mentioned that the more casual/edgy look would be great with an oversized denim jacket, but I didn't quite have the one I was looking for. Well, that recently changed. I just found a new oversized denim jacket that is so perfect for summer into fall and I had to share it with you guys! I put together this fun look below, and am also talking about a few other ways to wear it.
Casual, yet Edgy Oversized Denim Jacket Look
This jacket comes in a few sizes, but I got the medium. I could've gone down one size to a small and the shoulders might not be as broad, but I'm loving it either way! I love the distressing too!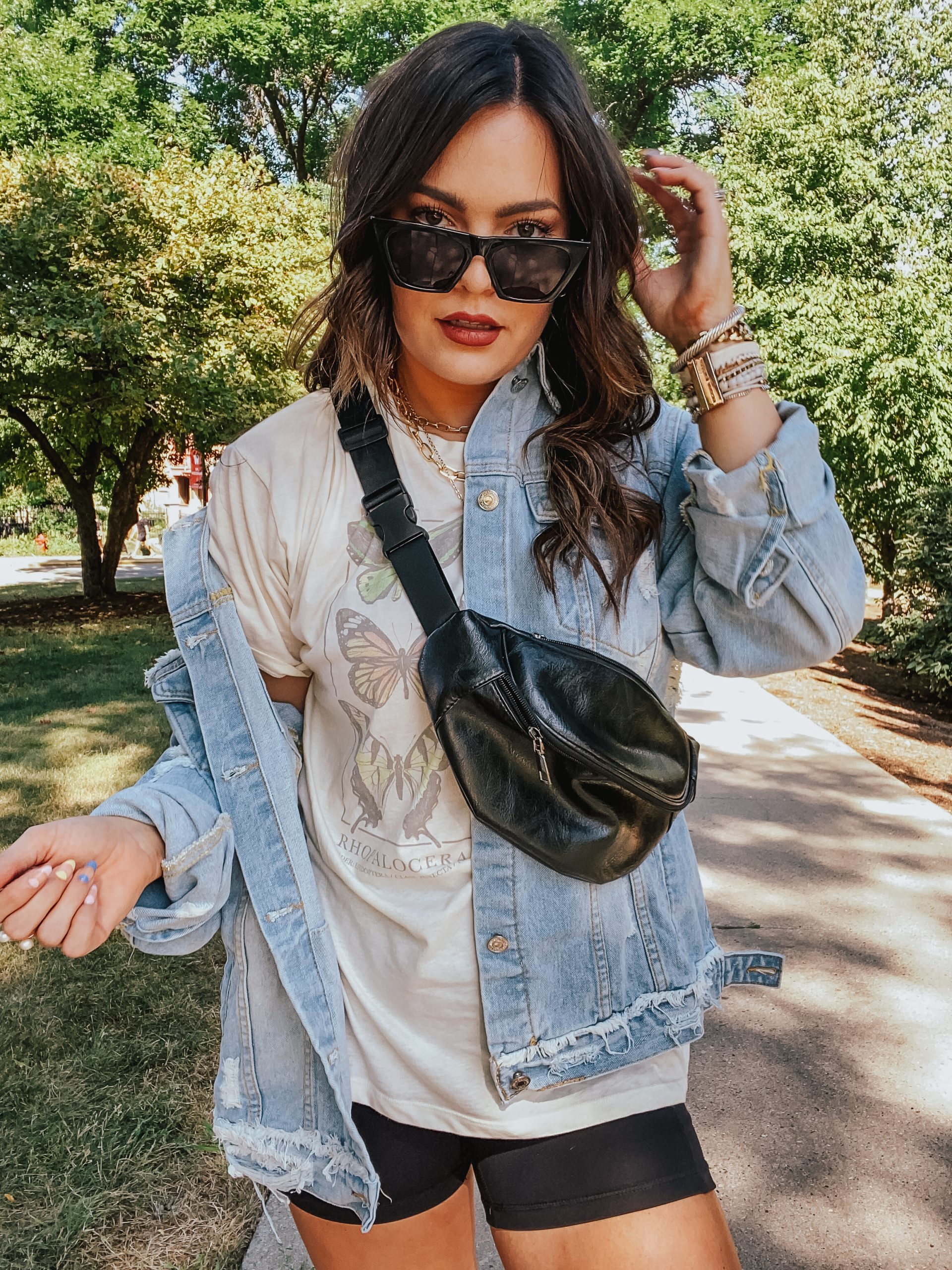 I cuffed the sleeves on the jacket and pushed them up on my arms for a more casual look. I also paired it with some 5.5″ inseam biker shorts, graphic tee and belted bag! Plus, these edgy sunnies finish off the look! This look pairs well with sneakers or slides, but I chose some plain slides!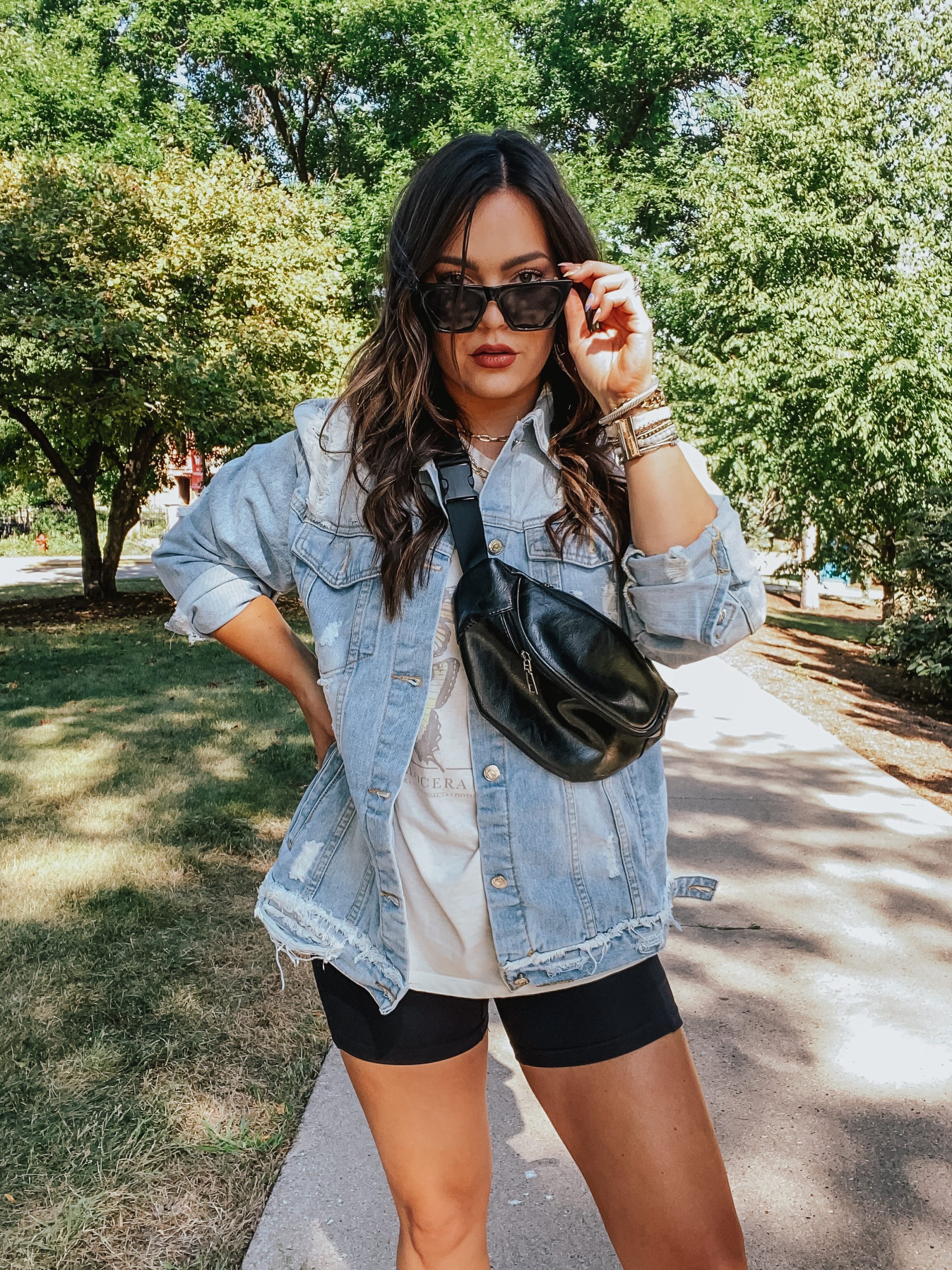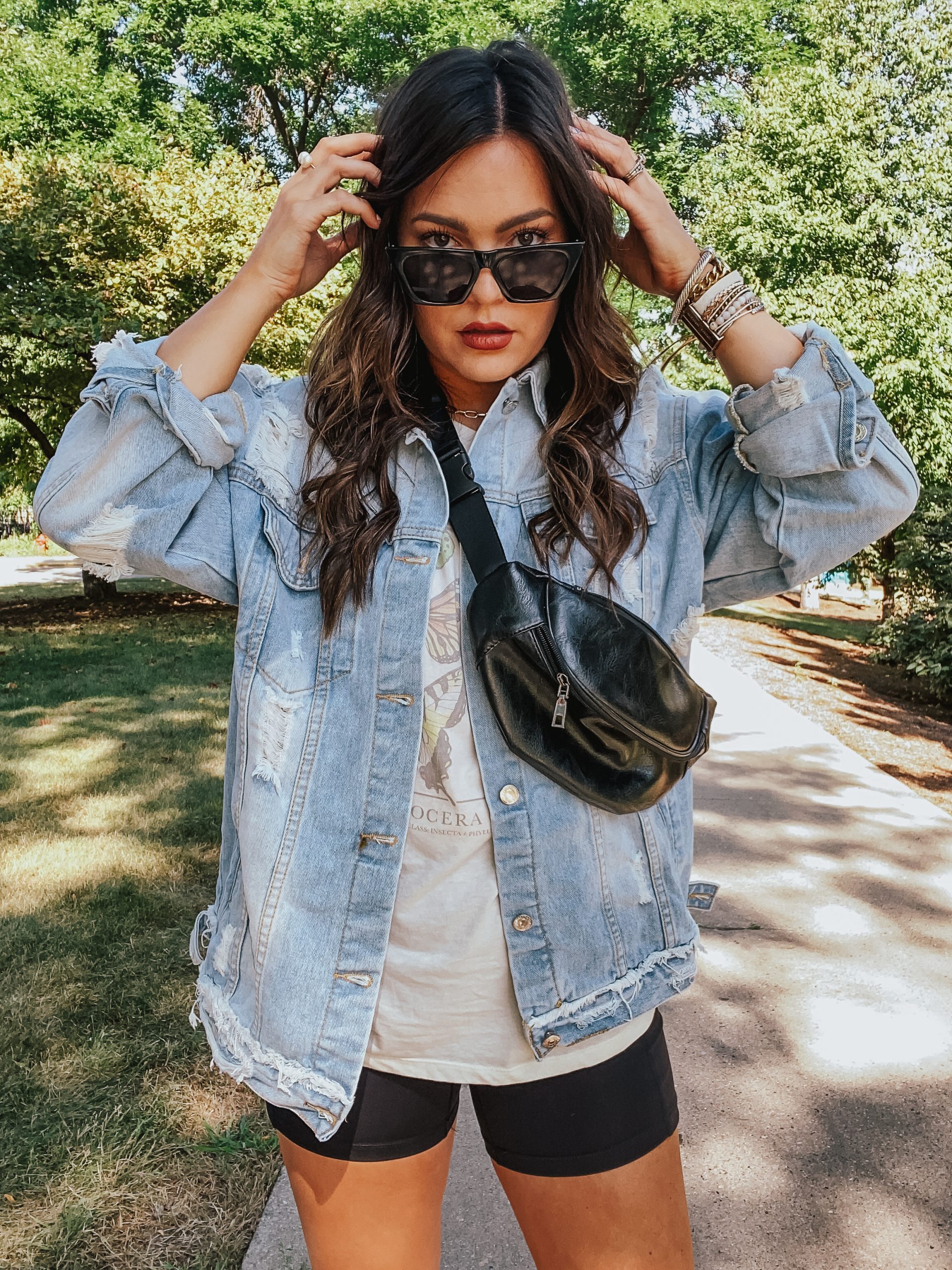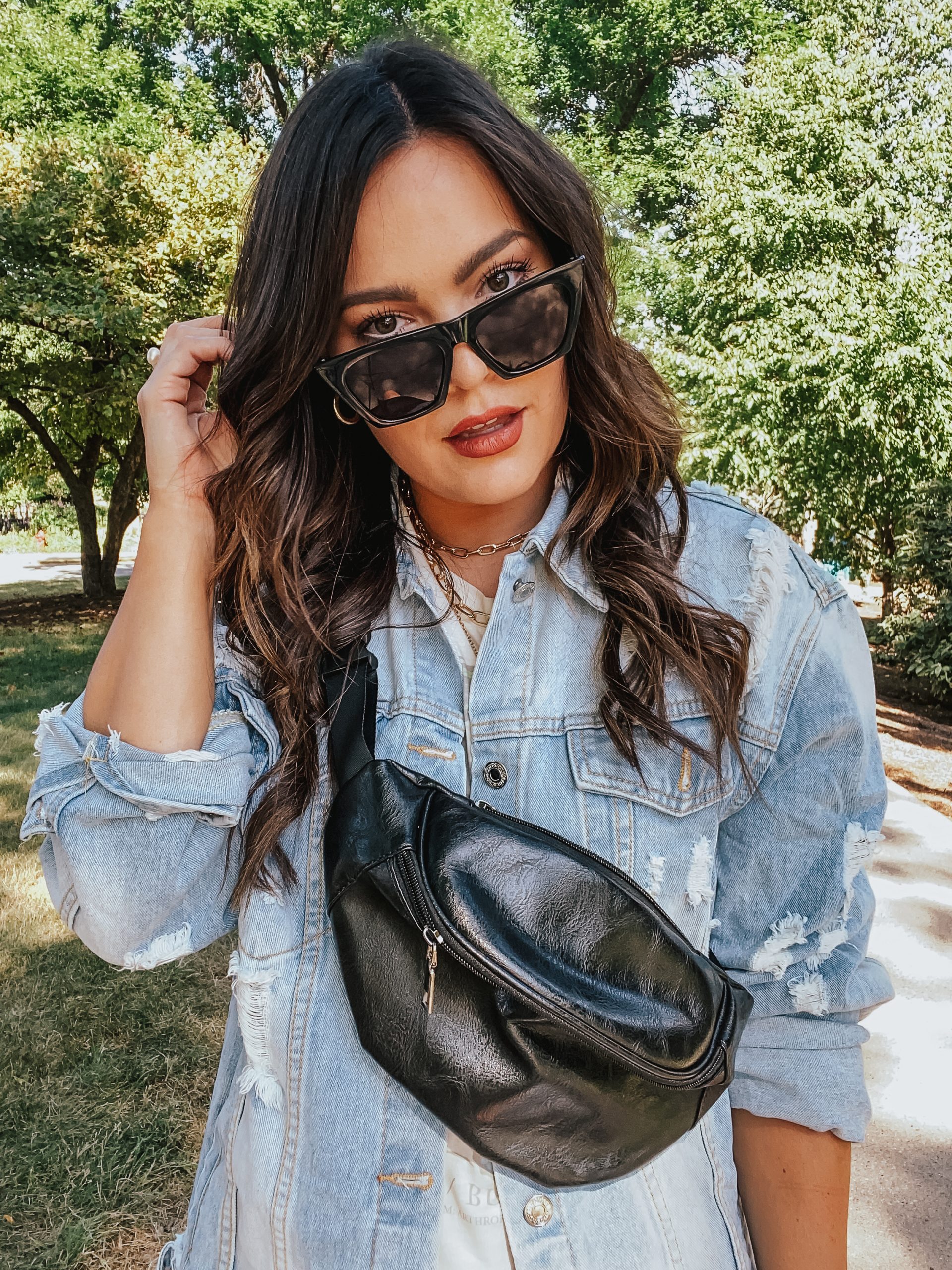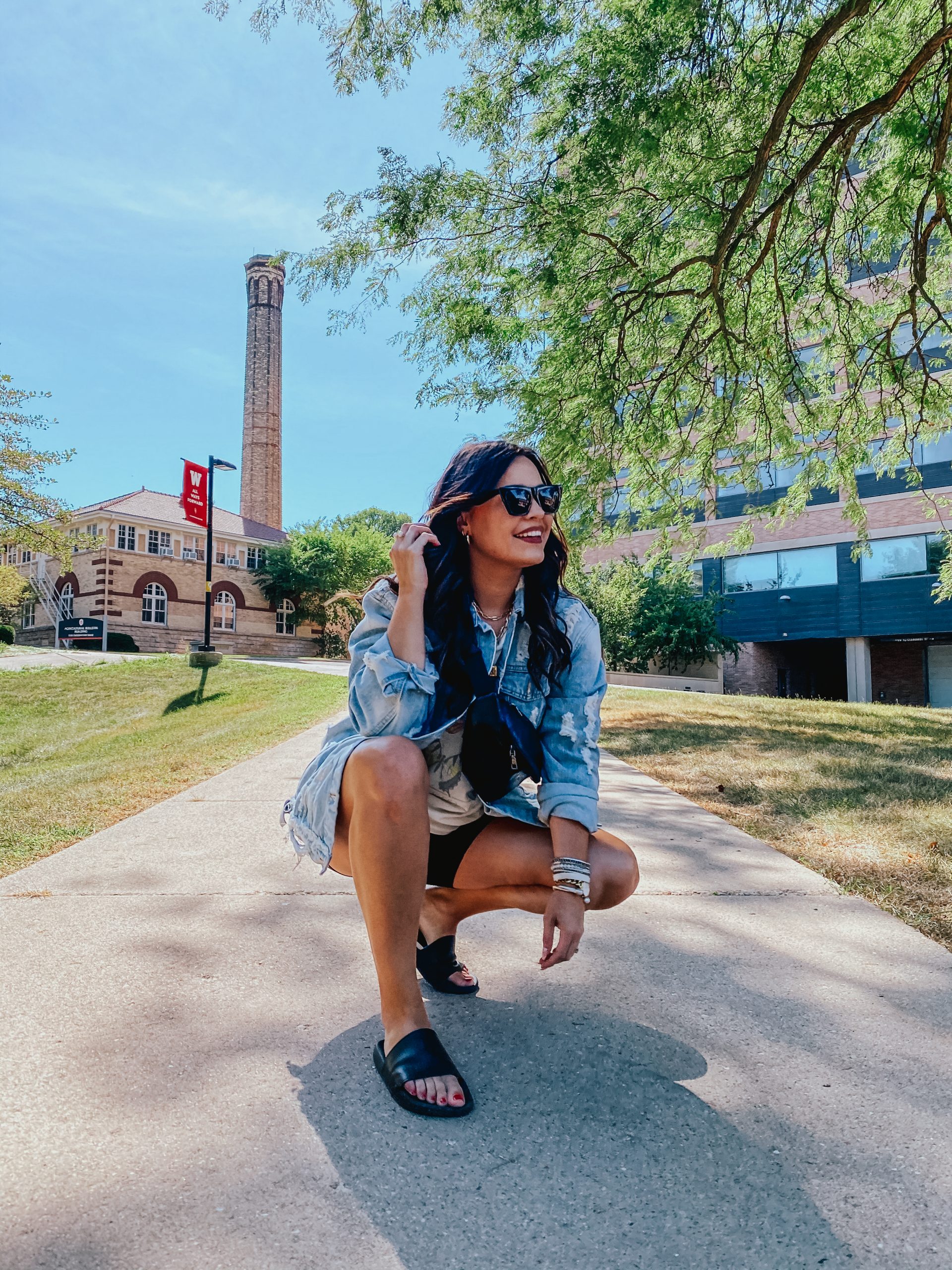 Oversized Denim Jacket – Wearing a MED | Graphic Tee – Wearing a MED | Biker Shorts – Wearing a MED |
Slides | Belted Bag | Necklaces | Cuff Bracelet | Watch | Earrings | Sunglasses |Lip Color – Lolita II

Other Ways to Style an Oversized Denim Jacket
There are so many ways to wear a denim jacket, but in case you want one and you're asking yourself, "How else can I wear it?", below are a few other ways you can style the jacket!
Pair it with leggings and a crop top – sneakers or slides will work with this look.
Over a dress – A more fitted dress with the loose jacket is perfect!
Over a sweatshirt (crop or regular) with leggings or shorts
With a sweater and skirt – perfect for fall too!  Should I share this one in another post? 😉
Canadian Tuxedo – can't forget the denim on denim!!!
That's all for this week's post!! Do we like this look? Let me know your thoughts in the comments below! Don't forget to subscribe if you're not already so you're notified each time a new post goes live on the blog!
Until next time,